Tour of Portugal 2015 notes from my daily diary.
Friday 25th September Day 15 – From Santiago Northern Spain to Porto Portugal
Departed 9.30 Good Drive on Motorway to Portugal but very busy around Porto. Toll 26e. Scenic viaducts no lorries not many cars Arrived campsite 1pm. Camping Marisol small bit scruffy 15e a night. (we found out later there is an excellent aires N of Porto). Cycled along 5 mile cycle path beside sea and beach into Porto Iron Bridge. Lovely ride very busy by bridge. Lots of tourists.
Saturday 26th Misty Morning. Caught bus from campsite into Porto Hairy ride! Narrow streets very busy . Finally found Old Town at top of hill nice buildings. Lots of hills, steep roads, lots going on, Protest marches, Bands, street entertainers.  

Hop on Hop Off Buses, TukTuks,Trams,Metro, Lovely castle. Walked across Top part of Iron Bridge, beware Trams! Visited train station famous for the amazing Azulejo Blue Tiles.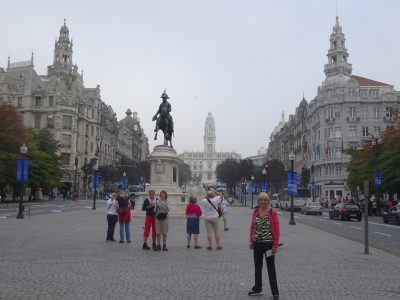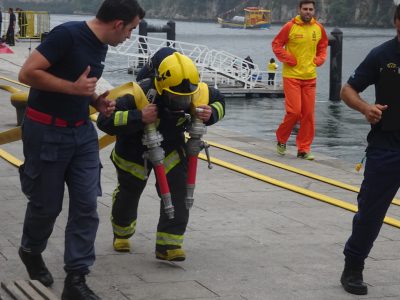 Got on tram for circular tour of old town but ended up by the river! Walked back towards iron bridge lots of seafood restaurants, BBQ Sardines, Fire-fighters Competitions taking place, fun to watch, crowds cheering on their teams, canoe racing on river. Walked across lower level of Iron Bridge to catch bus back to camp but road closed due to large number of tourists and cars. No sign of a bus so grabbed a taxi same price as bus and much more comfortable!
Sunday 27th Still Misty. Decided to go coastal route no tolls as only planning to drive 50 miles Big Mistake! Road very difficult to follow cobbles, narrow,r-a-bouts,traffic lights,busy. Found Aires on coast but full and scruffy! Weather awful! Very misty. Stopped for lunch and re-routed to Coimbra (inland) small road but much quieter, scenic,pretty village houses,ladies in traditional dress, sun came out away from coast. Arrived Aires at Coimbra full to overflowing into large carpark. We squeezed in, lots of cars with families having picnic by the river. City on top of hill. Walked across bridge, very hot, people swimming, paddle boarding. Lovely spot but too crowded.
Monday 28th left early drove to Lidl for shopping non toll road very busy with lorries. Changed to toll ticket motorway easy driving. Took us straight into Lisbon 20e Tolls.. Very heavy traffic around Lisbon but no problems. Lisboa Campsite Pitches ok. Facilities good but well used. Nice big swimming pool . Free Wifi.
Tuesday 29th caught bus into Lisbon took ¾ hr. Heavy traffic.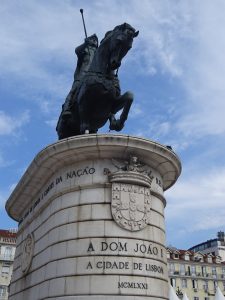 Lisbon heaving with tourists. . Walked up to castle after coffee and traditional egg custard tarts. Nice views over city. Had lunch in restaurant at top nr castle much cooler and quieter than in centre.
Back down to main square, lovely historical buildings, Fountain and statue of Dom Pedro IV lots of trams, tourist buses choc-o-bloc.
Now very hot, queued to take the Elevador de Santa Justa then climbed up spiral staircase to high level with splendid of the Square, Baixa (lower town), the Castle, river and nearby ruined Church. After we walked down main street through the impressive triumphal a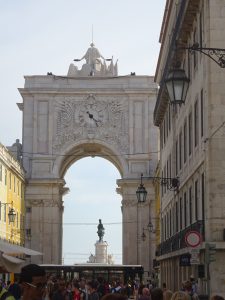 rch into Palace Square with its beautiful buildings, monuments and statues. Now all very tired so queued for bus but was very full and had to stand with more and more people squeezing on! Cost 1.80e each way p.p.
Wednesday 30th . Caught bus into Belam the historical area of Lisbon. Heaving with tourists again.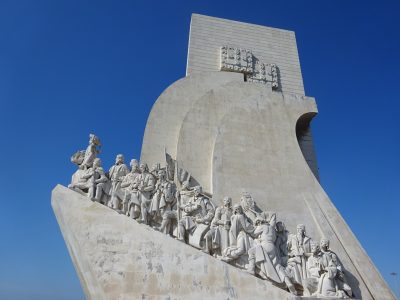 Monument of Discovery, beautiful carved Figures Henry the Navigator etc. Defence Tower only one remaining from earthquake in 1775. Monastery with lots of tombs. A very interesting seafront area. After lunch back on bus (no problem from here) straight to pool for swim as very hot.
Thursday 1st October Crossed over via Iron Bridge to Armada on opposite side of Lisbon. An interesting dockside area. Then took the steep winding hill to Christo Rei a huge white cross with amazing views of Lisbon and the Tejo estuary from the Iron Bridge to the 7 mile Bridge connecting Lisbon to the South of P
ortugal.The monument is a replica of the one in Rio de Janero and very beautiful .

The iron bridge is a replica of the Golden Gate Bridge in San Francisco
We then carried on along the coast road to Coast Caprica and found a conv enient carpark next to a beautiful white sand beach. We asked a local if we could stay overnight which we could so after lunch spent a very pleasant afternoon on the beach. We went swimming it was lovely! Big waves, surfers, fishing boats riding the surf to land on the beach. Free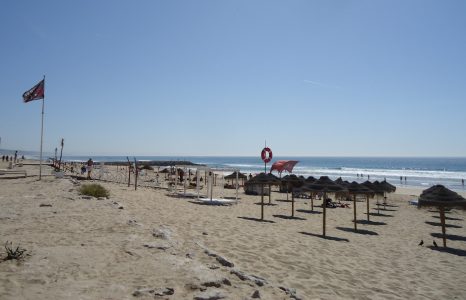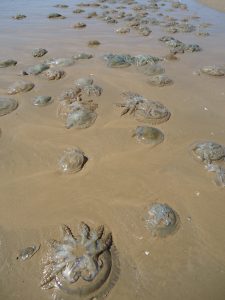 Friday 22nd Carried on down N10 good road to Alcacer do Sol decided to head inland to Barrage Pego do Alter for lunch. Scenic quiet road, pretty houses, cork trees, lots of storks gathering in fields for Winter Migration. Found Barragem and parking area couple of other motorhomes overlooking lake. Now very hot so decided to stay a couple of nights. Small traditional restaurant, basic facilities, Monument about Dam and walks.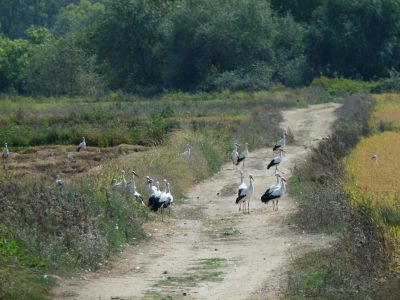 Saturday 3rd Our Wedding Anniversay. Still hot. Relaxing Day chatting to other motorhomers etc. Lovely meal in restaurant in evening. All local produce – the menu was interesting!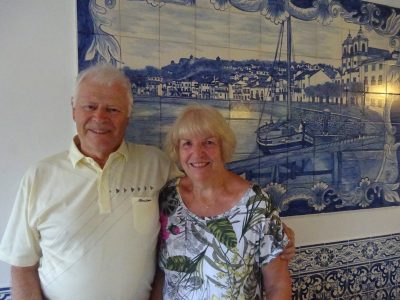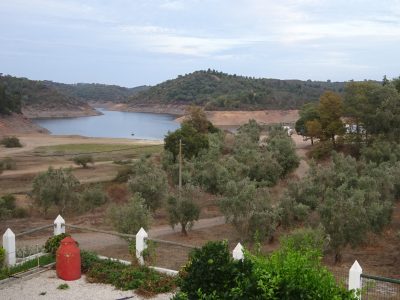 Sunday 4th Left travelling back to Alcacer carrying on around coastal route. Very wild countryside long straight roads no traffic no villages. Small isolated farms. Lunch stop nr Melides on coast nr big lagoon saw large flocks of Glossy Ibis and Crested Larks. Carried on to Porto Cova several different places to wild camp we went onto the Aires in the village a large parking area where they welcome motorhomes. Basic facilities. Free. Walked through shop down to cliffs spectacular scenery. Very humid. Thunderstorm in night.
Monday 5th Walked along cliffs and around harbour. Very Windy but warm. Restaurant in evening nice family run local produce all home cooked. Free Wifi.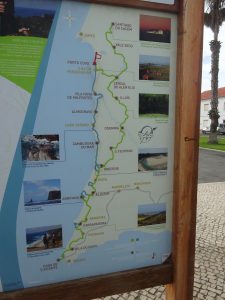 Our Route along the West coast
Tuesday 6th Drove along coast to Villa Nova Milfontes a very pretty coastal town. Parked on headland for coffee, lunch and swim. Carried on to Almograve a slopy carpark on headland overlooking beach. Water but Facilities closed. Lovely views Sea very rough.
Wednesday 7th Nice easy drive stopping for shopping and arrived at Aires at Oxedante wild camping site no facilities. Overlooking very nice beach with a surfing school and a few shops/cafe. Sat on beach watching surfers. Beautiful Sunset.
Thursday 8th . Drove to Aljezur. Interesting old town was home to Muslim population. Parked by river for lunch but would have been possible to park behind market overnight. Basic facilities.Walked up through narrow cobbled streets with pretty white and blue washed cottages to medieval ruined castle reminded us of Clovelly in North Devon. From here drove 30 mins to Carrapteira a huge beach with a wild camping free carpark. No cliffs!. Lots of sand dunes. Spent afternoon on beach watching Kite surfers. Completely unspoilt just one beach cafe. Our best beach so far.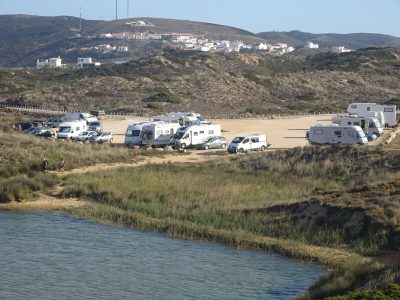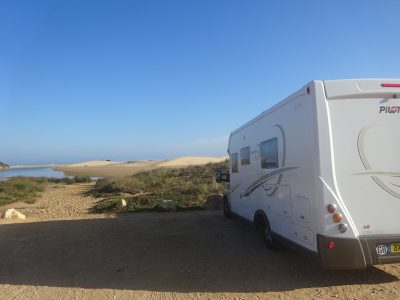 Friday 9th Set off early for Cap Vincent. Just as well as a few coaches already there! Last time we were here was 1982 with my Mum and Dad – it was deserted then nothing there just the lighthouse. Now all the usual tatty tourist stalls. Very high cliffs, pounding seas, men fishing on edge of cliffs with long poles. Crowds of tourists by the time we left. Drove back up the road to Henry the Navigators Fort. Now very hot, had a good walk around, Blow Holes, on edge of cliffs, birds, wild flowers lots of fisherman, not many people, no coaches. Large wild camp park with lots of motorhomes but no facilities and we needed to go onto a campsite after 8 consecutive nights on Aires or wild camping .Went to campsite at Lagos £12 a night but pay extra for everything, electric, Wifi, lovely swimming pool, laundry, restaurant etc.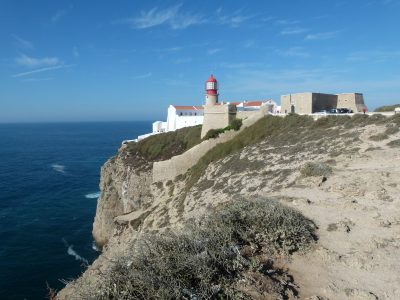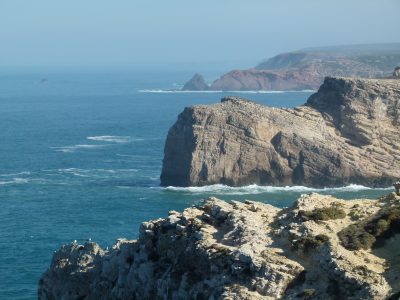 Saturday 10 Raining all day so stayed put and had rest. Caught up on emails etc. Azur Magpies in trees.
Sunday 11th Set off for Aires at Prai de Rocha nr Portimao. Huge carpark/area by Marina dedicated to motorhomes. 3.50e a night plus 2e Wifi 2e for 100ltrs of water. Good toilettes and small cafe used by locals. Some people stay there for 6 months! Lovely beach with boardwalk lined with every type of restaurant but quite touristy. Long pier to small lighthouse, lots of sailing boats and fishing boats in and out of estuary. Hotels and apartments. Very pleasant and quite central for touring the Algarve.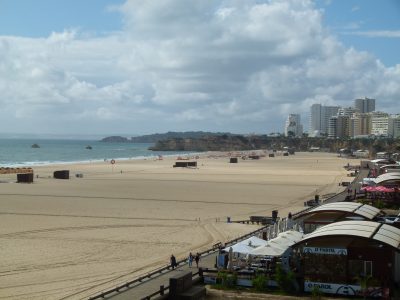 Monday 12th Took water taxi from marina to fishing village Ferra Gudo. Very pretty cobbled streets blue white cottages steps up to church with pleasant views. Sat on beach in the afternoon.
Tuesday 13th Left Portimao and headed for Silvas. There is an aires but a long way out of town. Found good free campspot with lots of other vans in a park area opposite Fire Station. Walked straight into the historic old town once the capital of the Algarve. Cobbled streets, hilly. Nice Cathedral.

Set Lunch in local restaurant home made soup, fish ,with fresh veg or Turkey steaks, choc mousse, beer, coffee and port 7.50e per person! Very friendly staff.

Went to Fort after lunch 1.40e entrance very interesting history. Evening at fire station cafe coffee, custard tarts and free Wifi! One of our favourite places.
Wednesday 14th Walked along river lots of different birds. Left after coffee to go to Mikkis CL Type campsite as recommended by one of our fellow campers at Silvas. Situated on the rural outskirts of Albuferia. Very rustic and a bit basic but well laid out proper pitches, electric, full facilities (communal) small restaurant with home cooking and small bar. Very popular with Dutch motorhomers. Small natural swimming pool. Ceramic workshop.. Wifi hit and miss. Definitely a bit different and very quirky.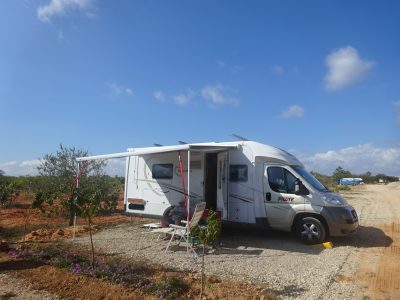 Thursday 15th Foggy! Decided to move on. Drove short distance to Faro Beach another recommended by Silvas camper. Several motorhomes parked in beach carpark overlooking estuary. We found two places. Now a very hot day. Lovely walk along estuary and back along beach. White sandy beach as far as the eye can see. Lots of birds in estuary. Planes taking off from Faro airport. Lovely sunset. Restaurant Toilette and emptying. Free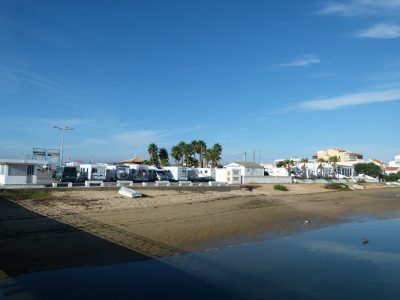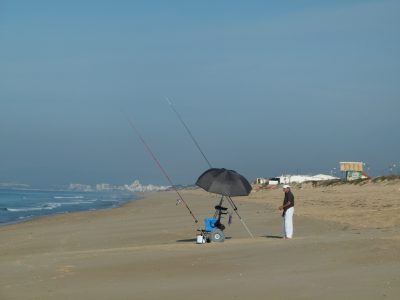 Friday 16th Good shop at Lidl. Drove to Fort at Tavira . Lots of estuary birds, salt pans. Decided not to stay went into Tavira but Aires not good. Santa Luzia very pretty but no parking. Found the Aires but full of gypsies. Decided to go to camper stop found by snooper east of Tavira. 9e a night all inclusive, lovely swimming pool good free wifi. Good free modern facilities but very poorly marked out pitches and lots of trees.
Saturday 17 Windy cloudy storm forecast! Caught up on washing, emails, planned route home
Sunday 18th Heavy rain in night. Drove to Cabanas small estuary village for coffee stop then on to Monte Gordo for lunch.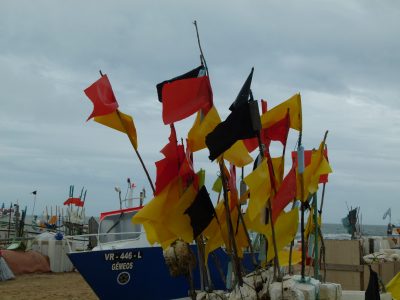 Walk on the beautiful beach lots of colourful fishing boats too windy to launch. Beach lovely but whole area spoilt by high rise blocks of flats. This is where my parents spent many winters in their motorhome back in the 70's then it was just a small fishing village. Drove past the campsite where they spent so many happy months. Started to rain passed through Villa Real where mum and dad would catch the small ferry to cross into Spain to get their passports stamped every 3 months. Arrived at the Aires in Castro Marim took the last two places.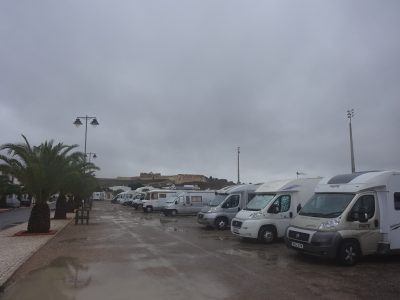 Our last night with our friends Jenny and Colin who were going on into Spain to the Rally at La Manga. All agreed it had been a fabulous trip and most important we were still friends!
Tomorrow we leave the Algarve and head North for home.
Monday 19th Set off N towards Mertola. Beautiful road, no habitation, no traffic, lots of cork trees, plantations and moorland, hilly at times with scenic views. Arrived Mertola and parked by Bombieres in large carpark. (there was a wild camperstop by river). Very pretty whitewashed Mertola's origins date back to the Phoenicians, Romans and Moors and there is plenty of evidence in a variety of museums and excavations of life during these times. Overlooking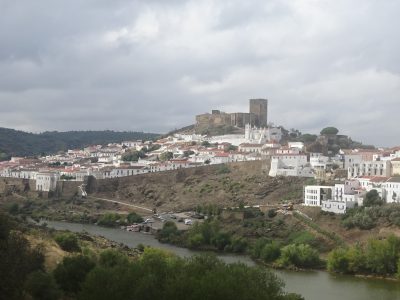 the town is the crumbling hilltop castle offering lovely views of the river valley. After lunch drove to Minas de Sao Domingos once a mining village now a bit of a ghost town. Good Aires here, Free, overlooking lake, restaurant, free wifi . The copper mines were the areas main employer until 1965. Run by an English company the families lived in the harshest of conditions in one roomed windowless cottages, which can still be seen today. Small mining museum. Very interesting.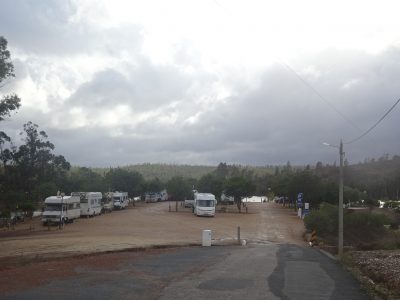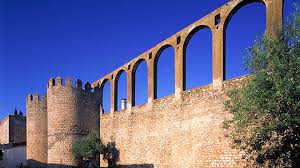 Tuesday 20th Short drive to Serpa Municipal Campsite 10e bit tired and basic but ok. Walked into Serpa a Historic Walled Town. Serpas stout walls are topped by an arched aquaduct and the very impressive Porta de Beja entrance to town. Pleasing squares and streets of small mining houses that dazzle with the brilliance of their whitewash are overlooked by a castle of Moorish origin.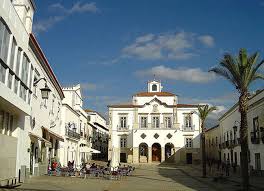 Had a very good lunch in local restaurant 2 Soups, 2Steaks ,2Beers, 24e Bought local Serpa cheese and wine from local produce shop a speciality of the area the cheese made from the ewe's milk of a particular breed of sheep.
Wednesday 21st Shopping at Lidl bought lovely local olive oil. Drove on minor roads to Moura for coffee stop. Big agricultural area large ploughed fields, huge grain silos, acres and acres of olive trees, very little habitation just a few farms, not much traffic. Carried on minor roads to Morao a hilltop town but nowhere to park, crossed over the vast Barragem Albufiera the largest manmade reservoir in Europe.

Took the mountain road up to Monsaraz a spectacular medieval hilltop walled town. Parked in the aires with a panoramic view over the lake and surrounding countryside. After lunch walked up into the small town passing through the massive Porta de Vila. Cobbles again! and white cottages with tall pepperpot chimneys,, twisty narrow streets, only cottage type shops, lovely church, Interesting Castle with Amphitheatre with glorious views. Beautiful sunset. One of our favourite places.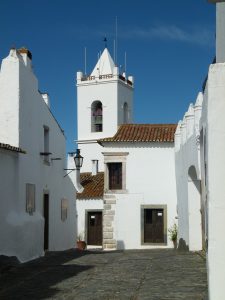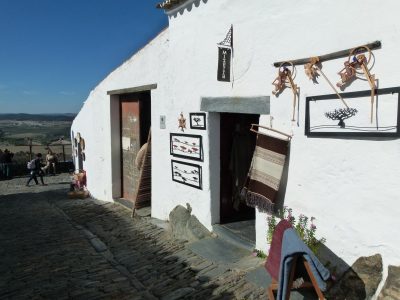 Thursday 22nd Set off on minor roads to Villa Vicosa, very rural, untouched by tourism, farms, small villages many with people in traditional dress, hilltop fortified towns, a bit of Real Portugal.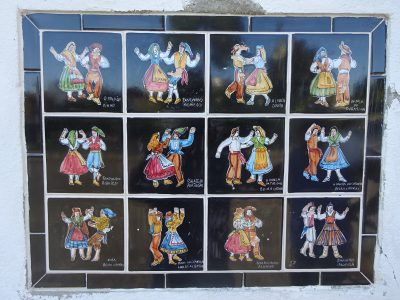 Villa Vicosa is the marble capital of Portugal and home of The Royal House of Braganca once rulers of Portugal. The marble Quarries are enormous and very, very deep. We drove along gorge like roads lined with large blocks of the famous white marble.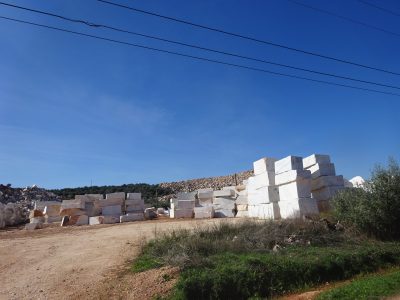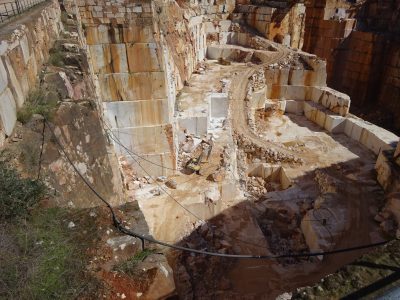 We were heading for Elvas and the Aires by the famous Aquaduct, It was very hot with no shade so decided to carry on to Alter do Chao as had read in the Guide book about the famous Alter Real Stud where they breed a particular type of horse.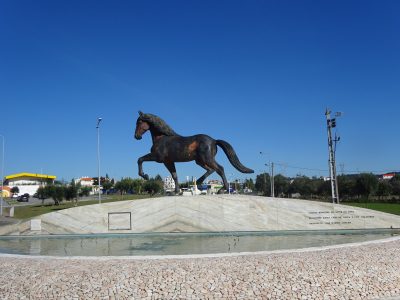 The Alter Real is a strain of the Lusitano Horse bred only at the Alter Real State Stud in Portugal. Still driving along rural roads all very scenic, arrived at Stud but too late for visit so returned to town to find place to stop overnight. Enquired at Police Station in centre and was told ok to stay overnight in carpark behind Police Station! interesting little town with very nice Castle.
Friday 23rd Arrived Stud at 10.15 Tour of the Stud at 11am just us and one other French couple. Learnt about history of Stud which was founded by King Jose in 1748 to breed the Alter Real Horse. ( Horse of Kings) We visited the indoor arenas where horses where being exercised and trained for dressage, the stables to meet the horses close up, the Vet Hospital, plus lots more.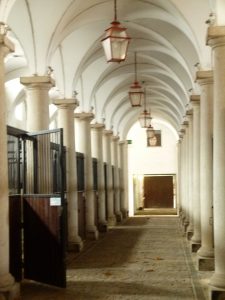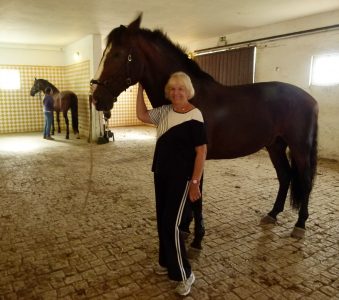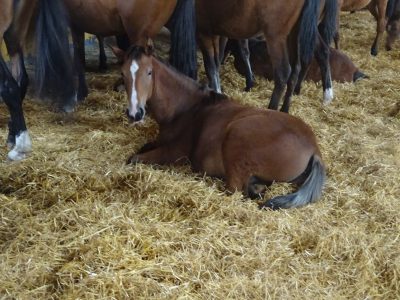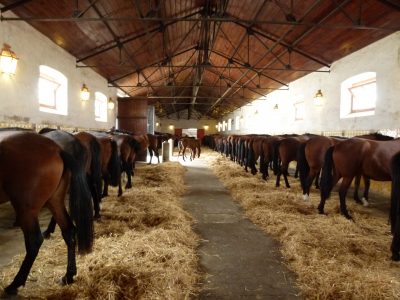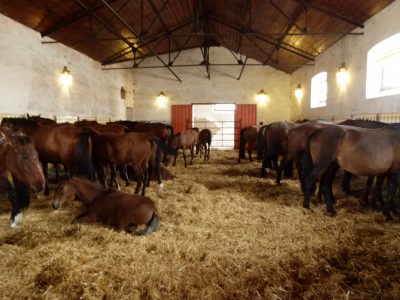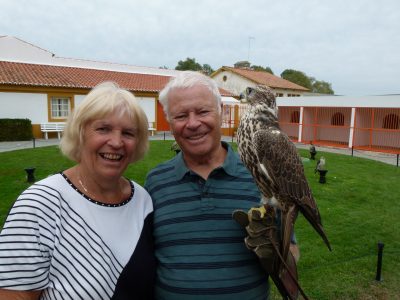 It was a dream come true for me being a horse lover! Although Lusitano horses are mostly grey the Alter Real Horses are only Bay coloured. One of the most beautiful moments was when we went to see the lines of 60 brood mares in a large building having their morning feed also their foals who were running around free. They all spend the night out in the fields and come in each day to be checked and fed. Afterwards we went to watch a falconery display and we got to hold a Golden Eagle! After lunch we left for the Border hilltop town of Marvao travelling on minor roads across the mountains until we arrived at the Aires with panoramic views. Pretty at night with the twinkling lights of villages in the valleys below.
My Favourite Day!
Saturday 24th Decided to leave visiting Marvao for another time as we were now heading for Caceres back into Spain, France and home.
In all a very interesting and enjoyable tour of Portugal. We managed to avoid the expensive Toll roads most of the time and we stayed on a mixture of Campsites, Aires and a few wild camping spots. We found most Portuguese helpful, polite and friendly, though we did struggle with the language! For us the highlights were the beautiful West Coast Beaches, the quiet rural inland areas with their fortified hilltop towns, Lisbon and Porto.
And there is so much more to see!