A Quick Guide to Our Route to The Sun
By Jenny Vowden
One of the most frequent questions we get asked is when telling people that we have been Spain for the Winter is "Which Route do you take"? so thought a report would be helpful, especially aimed at new owners, giving our route that we took in February this year to Spain. The report contains brief details of the route, mileage,stopovers and information that I think might be of use especially to first time owners travelling abroad in the Winter. The Route that we follow is one that suits us and is based on a journey time of 6 hours maximum which includes coffee mid morning, a lunch stop, arriving around 3.30 – 4.30 at our destination This gives us time to go for a walk around the local area… A mixture of Toll roads N and D roads are used together with our Tom Tom Satellite Navigation System (and me Jen Jen). I plan the route on my map (using a highlighter or stickers) before we leave so I always know where we are heading for each day and I have an escape plan if for whatever reason we are delayed. I find this essential for the Winter months route planning for a stress free journey. We will only use tolls roads where essential, as for us the journey using N and D roads is much more pleasurable, but of course much slower. We prefer to use Aires with one or two nights on a campsite. For this we use the French and Spanish Aires books available from Vicarous Books and we also have an ACSI card which gives us discounted campsites and more importantly ones that are open in the Winter. The CC Club and C&CC also have lists of campsites open in Winter. However its worth mentioning that it is always best to check ahead that they actually are open! Most Aires are open for use (free of charge) during the winter but often the water is turned off and there is no electric, so be prepared to use your own facilities. This years route started when we crossed the channel using the Eurotunnel on the very snowy morning of 3rd February at 7.50 am arriving in France 35 mins later. After breakfast we took the A16 E402 road towards Rouen a good fast and not too busy road to get us on our way. The weather was mixed sun cloud and some snow showers on higher ground. 1st toll nr Boulogne was e13 . We filled up with fuel at e1.299 per litre. Followed Tom Tom around Rouen a very busy place to get through but no problems one more toll of e3.10 to take us onto the A13/N154 south towards Dreux. There is a CC campsite open here. We continued on the N154 towards Chartres, then the D 910 /N10 towards Chateaudun arriving at the small village of Marboue just north of Chateaudunn at 4pm.

And our 1st night stop at the excellent Aires in the village. Mileage to date 243..
Thursday 5th Dept 9.30 am Sunny. Took the N10 around Chateaudun (there is a very good Aires here right in the town below the Chateau, we stayed here on our return journey) continuing on the N10/D910 towards Tours and then Poitiers (its worth noting that the D910 between Tours and Poitiers is very slow due to numerous roundabouts and traffic lights ,in future we will use the toll road between Tours and Poitiers for this stretch of the route). North of Poitiers there is a handy Aires at Futurescope a very large Auchen (photo at top of page) and some cheap fuel stations. We continued on the now scenic N10 passing Angouleme to our planned second night stop at an Aires in the small town of MontGuyon arriving at 4pm. Mileage 243
Friday 6th Very cold night and we woke to snow on the van & ground which quickly melted in the bright sun. Dept 9.15. Back on the N10 towards Bordeaux following Tom Tom who is programmed to "No Toll" He takes us safely around Bordeaux and onto the E05/E70 in the direction of Cap Breton on the coast, however at Jct 18 unbeknown to Tom and Jen this is now PEAGE! E10. A good road through interesting scenery.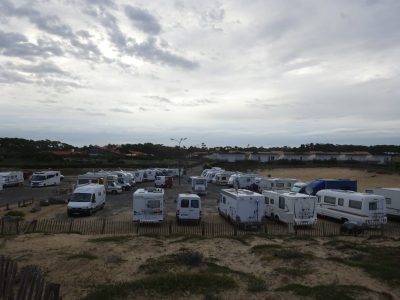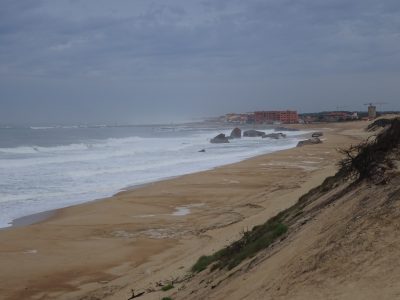 We arrive 3.30, Mileage 150, at Cap Breton right behind the sand dunes next to the Atlantic coast and so different to when we stay in the Summer when although huge its generally packed with vans, this time only 6. We enjoyed a very good walk on the beach watching the surfers. Texts were coming in from friends warning of heavy snow at Santander and Burgos/Madrid Area (our planned route) so we opted to take the Pamplona Zaragossa route the following day.
Saturday 7th After a good night we left at 9.30 stopping to get some cheap fuel at E1.148 ltr. Because of the warning about snow we decided to stick to the motorways for the next leg of our journey, knowing that the French and Spanish have very good systems in place for keeping main roads clear of snow (we once travelled across the Millau Bridge following a snow plough in very heavy snow, but no problem) so with Tom Tom now allowed to use Toll roads we headed off towards Bayonne and San Sebastian before picking up the A15/AP15 towards Pamplona. We had no problems with snow although the many difficult junctions and heavy traffic made Jen Jen very happy they were following Tom Tom ! There is one reasonably high pass on the A15, the mountains and sides of the roads were deep in snow, but the road was clear the sun was shining the sky was blue the scenery spectacular and we were in Spain! We finally reached Zaragossa at 3.20, Mileage 2011, where we booked into the Municipal Campsite looking forward to a long hot shower and a meal in the restaurant. It is at this point if your destination was the Barcelona area you would head off down the AP2 but our destination this time was La Manga as we were booked into the Winter Rally there from the 10 February.
Sunday 8th Dept 9.45. Took the A23 towards Teruel. Good road quiet and very scenic. (on our journey home we stayed at a campsite in the wonderful medieval town of Albarracin well worth a visit if you have time) At Teruel you can stay on the A23 all the way to the coast. Choosing not to take the coastal route to La Manga we took the scenic 330 passing through very rural Spanish countryside, flocks of sheep shepherds with their dogs and acres and acres of fruit trees although even here there were signs of snow nothing to worry us we were heading for a night stop at an aires in Jalance a delightful village with an old castle perched on hill. We arrived at 3.45 mileage 210 had an interesting walk and a drink and a game of dominoes in the village bar with the locals!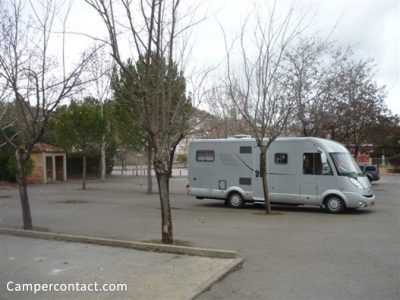 Monday 9th Dept 9.30 A very cold night. Cloud and light rain the first we had encountered since leaving Northern France. Continued following the scenic 330 to Almansa where we picked up the A31 to Elche, the A7 to Murcia and the A30 towards La Manga arriving at 12.34 in the rain! This is the way Tom Tom took us as the fastest route but as good would have been picking up the AP7 after Elche it's a good fast road. Mileage 158
Total Mileage 1,215 Calais to La Manga Return Mileage 1177
Well that was our route this year, we found it relaxing and enjoyable although very cold at night at times. On our way home we kept much to the same route apart from crossing the Pyrenees through the Col du Somport Tunnel (14th March) overnighting first at Albarracin (campsite ACSI) then Oloron (Aires)There was a lot of snow over the Col but all roads completely clear and very scenic. This return route reduced the mileage and the Tolls.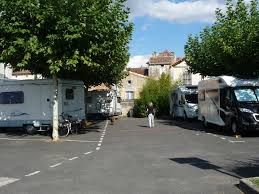 We also stayed on an Aires in the delightful village of Nersac just south of Angouleme, with free electric, water emptying etc. shops and restaurants.
I hope that some of this information will be useful to members especially our first time motorhome owners. I would add that our motorhome does have a solar polar and two leisure batteries something I would think essential for this type of journey unless staying on campsites every night. On the toll roads we are classed as a Class 2 Vehicle our van being a low profile, however be warned, nearly all the toll roads are now fully automated in France and if you have a van with a luton/overhead cab and is fairly high then you will most likely be charged Class 3 and this is considerably more as friends of ours have found to their cost. The system thinks you are a commercial vehicle. At the barrier there is a help button, tell the operator that you are a motorhome (nous sommes camping car) and this should reduce your charge to the Class 2 category Good Luck!